3. Frankfurter BankenCup:
Good-humoured players defy wind and weather.
Frankfurt. The Participants of the 3. Frankfurter BankenCup showed much enthusiasm with a supreme effort. Only the weather presented itself a little moody and changeable. In a family atmosphere, the competing teams were playing for the title and were cheered by their fans. During the presentation ceremony at the end of the event, Councillor Markus Frank, Head of the Department of economy, personnel and sports, congratulated the winners personally.
Particularly the winner of the tournament, the players of the Oyak Anker Bank, heaved up swollen with pride the bembel cup into the air. In addition to the winner's cup the team gets a voucher for Godemode-Trader.de each worth € 50, provided by BörseGo AG. The second place went to the Deutsche Finanzagentur. The third winner was Amex & friends, who came out on top in the "small final" against the NASPA.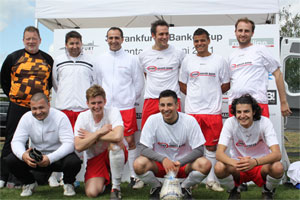 The big winner of the day was the Oyak Anker Bank. As the gainer of the tournament, the bank had also the top scorer Torsten Kreuter in his team and shines with the best defence. Kreuter was rewarded for his excellent marksmanship with an iPhone 4 by the BörseGo AG. For the best defence the team gets symbolically "shovel & broom" from ADF Dienstleistungen GmbH. Put up a good fight but after all conceded a goal in the finals – the players of the Deutsche Finanzagentur. As a consolation prize the goalkeeper received some gloves from Outfitter and the whole team gets a special issue of the Journal Frankfurt "Frankfurt geht laufen".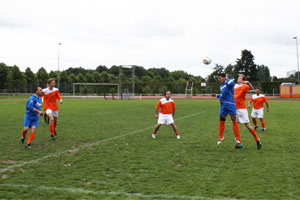 In spite of some adverse weather conditions and a bumpy football ground, the teams obtained 21 goals at that day. The Oyak Anker Bank donated € 500 for scored goals to the Leberecht Foundation.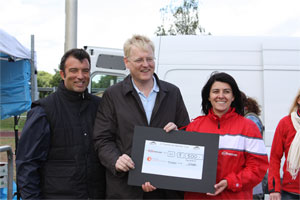 The physiotherapists PROREHA took care for loosening by the wind and rain cold getting legs. During the breaks the kickers made a regular use of the offer of a professional massage.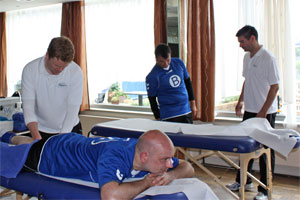 The Frankfurter law firm Winterstein lawyers, an incorruptible partner and "process observer" of the impartial referees, took care for the proper doing on the lawn. Like last year, the teams tuck in fresh bananas, apples and grapes of the shipper with organic products bringmirbio.de.